PLACE: Catalonia (Provinces of Barcelona and Girona).
Year: 2018-present.
Project: Coffee with love, a proposal to introduce cooperative values and social economy to the HORECA field.
PROMOTED BY: Generalitat de Catalunya. Departament de Treball, Afers Socials i Famílies.
SPONSOR: Ministry of Labor, Migrations and Social Security.
COFFEE WITH LOVE is a project that was born to offer organic Fairtrade products to coffee shops and restaurants. A proposal of an integral service for HORECA, where a complete range of products with social, environmental and proximity values is offered.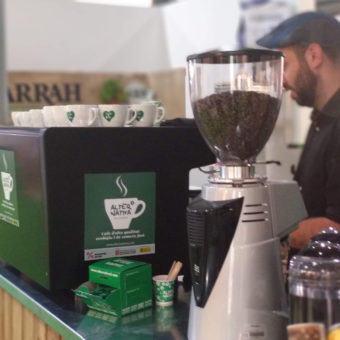 – Manufacturers: we have our own coffee toaster, which gives us the opportunity to innovate with new, special products for the HORECA sector.
– Specialized staff: we currently have a coffee specialist. We also have professionals from the world of fair trade and cooperativism.
– Training: we offer training on coffee to our customers, so that the high-quality coffee that we roast, is also served with the highest quality. At the same time, we also offer training on Fairtrade to spread the word on cooperativism, gender equality, respect for the environment, respect for human rights…
– We offer a whole range of products based on the sector's needs, with environmental, social and proximity values.
– This is an opportunity for clients to reduce intermediaries, they will even be able to have information and contact with the coffee producers at origin. AlterNativa3 has direct contact with the producers and will promote that the clients have direct contact through visits to their establishments and training days.
Project total cost: 171.230,40€
Subsidized: 60.000€